The lil SOLID device, developed by South Korean company KT&G, is presented by Philip Morris. It is a compact and lightweight device, and the all-in-one design and simple display and vibration system make it very convenient to use.
DUAL HEAT tobacco heating technology gently warms tobacco from the inside up to 350C, revealing its taste and aroma without smoke and without ash.
A full charge of the battery is designed for 20 sessions, which means that it will last for the whole day. You can use 4 sessions in a row, and 4 more will be available in just 3.5 minutes*. The display will tell You when your lil SOLID is ready to work again.
The device is intended for use with Fiit tobacco sticks.
WHAT'S INCLUDED:
Device lil SOLID
The power supply for charging the device from the network
USB cable type B. Suitable for charging the device from the mains, computer or external battery.
a lil SOLID cleaning Device that will help keep your lil SOLID clean to maintain a consistent taste and feel.
cleaning Sticks (10 pieces)
The color in the image may differ from the original
By design, the lil is like a glo nano, only slightly increased in height. But in terms of technology, it is more of an IQOS clone. Now, in glo, tobacco is heated along the perimeter through a layer of paper, while IQOS uses a heating blade. Lil also has a heater that penetrates the tobacco stick and heats it from the inside. Only the blade is round, rather like a knitting needle.
lil SOLID sticks
Sticks with various flavors I saw only on pictures, and they do look tempting – tobacco, berry and citrus. But we have not been able to try them yet. I only have a Fiit pack from Korea, but it has a pure tobacco flavor. Therefore, the question of tastes is still open.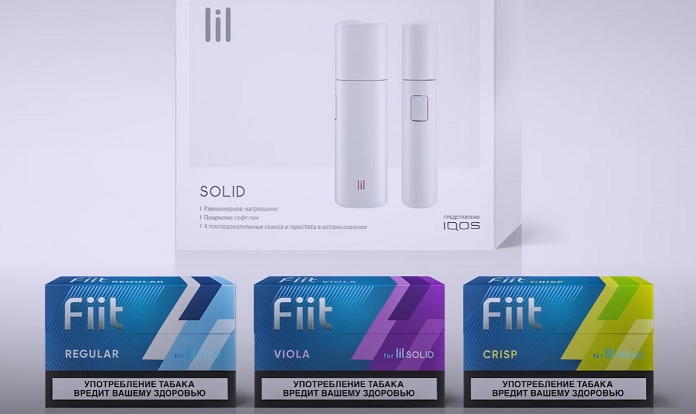 Using lil SOLID
Lil is simple. Move aside the plug, insert the stick all the way, press and hold the button. The device vibrates and starts heating. The indicator blinks in turquoise.
When the gadget vibrates again, the indicator will stop flashing and then you can draw in the aerosol. The session lasts 14 puffs. When finished, the device vibrates and the indicator starts flashing again.